High Performance Training Program
Fall
Not running in 2017


Sundays
9:00 am to 12:00 pm (3hrs)
Starts: September 2018
Dates:
1: 9/10 2: 9/17 3:9/24 4: 10/1 5: 10/8 6: 10/15
Up to 6 Sessions: $450
Waiting list fill-in: $90/session.
Maximum of 14 players accepted for this program.
Regsitration is for 2 sessions at a time:
| | |
| --- | --- |
| 2 = $170 ($85/session) | 4 = $320 ($80/session) |
| 3 =$255 ($85/session) | 5= $400 ($80/session) |
Location: SCJTL Training Center
74 Hauppauge Rd., Commack

SCJTL Player Development Program

Qualifications: Players who have participated in the HP Skills Development program are eligible for this program.
All other players must be accepted for this program.
Evaluation will be made by phone. Oncourt tryout will be scheduled if necessary.
For phone evaluation and information call SCJTL Program line: 631-590-5019.
Players approved for registration:
The SCJTL High Performance program is designed with strong technical focus combined with fitness and tactical components.
Tennis Mechanics/Form - All Tennis Strokes - Court Movement
Getting junior tennis players to move like the pro's using developmental progressions.
SCJTL High Performance program:


The

design

o

f

the SCJTL High Performance program centers on students gaining:
1. Proper training and understanding of pre- and post-match warm-up and recovery techniques.
2. Training of the importance of specific fitness training for tennis.
3. The awareness of good technical fundamentals of tennis movement and strokes

necessary to practice purposefully for improvement.


4. A foundation for building an individual style of play.
Open to: Advanced players over 12 years old with experience in top position on school team and/or USTA tournament expereince.
Varsity level (All-Division, All-County, All-State) experienced players.
USTA Level 3, 2, 1 tournament experienced players.
USTA Regional and Sectional ranked players.
Most important: Players who are committed to follow a tennis training program that will help get them to play like top level players!
No other program focuses on these important aspects like this one.

On court with 2 USTA National High Performance Coaches:
Joe Arias:
USTA National High Performance Coach
USPTA Certified Elite Tennis Professional and Specialist in Competitive Player Development
High School Varsity Tennis Head Coach
Jimmy Delevante:
USTA National High Performance Coach
USPTA Certified Tennis Professional
ISSA Certified Master Trainer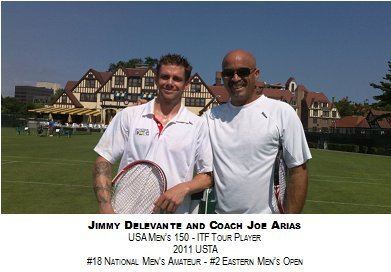 FAQs
Click for answers to commonly asked questions. If you do not see what you are looking for, send us a quick email: scjtl@ariastennis.com
HAVE QUESTIONS?
Please contact us at:
SCJTL Programs: 631-590-5019
Email:
STAFF BIOS