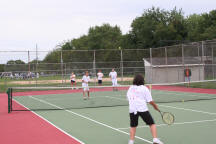 Dates : 7/11-13, 7/18-20, 7/25-27, 8/1-3, 8/8-10, 8/15-17*
*August 17th is BLUE DIVISION CHALLENGE DAY@ HAUPPAUGE MIDDLE SCHOOL.
Program Prices
6 Weeks: $190
Flexible registration for 5 weeks or less. You choose the dates.
5 weeks = $175.00
4 weeks = $165.00
3 weeks = $155.00
2 weeks = $125.00
1 week = $75.00
Try-It-Out = $55*
Registration price is for entire time and includes:
One SCJTL Team Shirt included in registration.
One Challenge Participation Medal per registered player attending Challenge.
Summer Tennis League Locations:
Comsewogue HS
Northport HS
Hauppauge MS <<Challenge Day Site
Sayville HS
Shoreham-Wading River HS
Click here for directions to SCJTL sites.
Sessions run at the same time at all sites unless otherwise indicated.
Players play at the same site during the program except on Challenge Day.
*Try-It-Out available after program starts if there is room.
Competition Division.
School Varsity tennis, USTA level 3 and 2 players.
Ideal for players may have played tournament level matches.
players work on competition and tactical skills with their peers on 78' full size tennis courts and yellow (regular) tennis balls.
New players in this age group are welcome!
Friends can play in the same groups together!
SCJTL Summer Tennis League Players are eligible for Staff Team employment.
Click here to visit the SCJTL Staff Team Site.
Click here for Challenge Day information
Summer Tennis League session includes:
Agility-Balance-Coordination skill development.
Tennis training theme of the day.
Tennis skills progressions
Skills games - Junior Team Tennis
Court & Site tournaments and matches.
Ladder match play.
USTA Top 10 Games
SCJTL Challenge Prep.
Additional Benefits for Blue Division Players:
Summer Tennis League Blue Division players are eligible for Performance Competition Training program discount: $20 off multi-session package.
Learn more about Performance Competition Training Program.
SCJTL Employment:
Summer Tennis Blue Division players (15+older) are elgible for employment postions as Site Assistants ($13/hr.) in SCJTL Green and Red Divisions on Mondays and Wednesdays while available.
Learn more about joining the SCJTL Staff Team.

SCJTL supplies the tennis balls. Players should bring their own tennis racquets, water, wear tennis shoes or sneakers.
Need a tennis racquet or extra shirt?
SCJTL Summer League players may also purchase inexpensive tennis racquets and additional team shirts along with program enrollment and receive them on their first day of the program.
(Click here to visit the SCJTL Equipment Site)
Challenge week add-on by current members is available.
To add Challenge week contact SCJTL : 631-590-5019
or Email SCJTL