Suffolk County Junior Team Tennis League (SCJTTL)
Est. Jan. 2022
The SCJTTL is establish to organize and provide junior tennis team competition events in Suffolk County, NY.
The SCJTTL is a work in progress. Development is planned thru the scheduling of tennis team events and supporting the growth of team tennis in Suffolk County, NY.
SCJTTL Structure:
Sponsored by: The Suffolk County Tennis & Education Foundation (Non-profit 501c3)
Organized by: The Suffolk County Junior Tennis League
The SCJTTL features:
Team Matches: Are promoted to enhance the team competition experience arranged directly by 2 teams at an arranged location.

Team Challenges: Scheduled team tournaments and events such as SCJTL Varsity Tennis League competition events, that will include multiple teams following SCJTTL guidelines and match formats.

Team Championship: Culminating events schedule at the end of a designated season.

USTA Junior Team Tennis: SCJTTL events may be counted as USTA JTT sanctioned matches thru the SCJTL Competition Squad USTA Team program. Regional competition is promoted as an optional experience.

ITF World Tennis Number: SCJTTL events will generate WTN points once the intitative is launched. Click here for more info about WTN.
SCJTL USTA Competition Squad Memberships and Affiliations: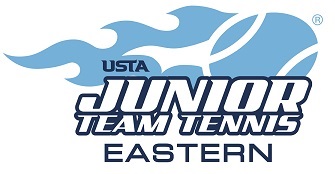 The SCJTTL goal is to provide year-round team competition experiences supporting Varsity tennis team seasons
Pre-Season
Post Season

Post-season team experience
SCJTTL will schedule Team Challenge events:

Seasons

Indoors:

January thru April
Indoor Team Challenge/Championship locations

Eastern Athletic C Blue Point

Outdoors:

May thru October
Outdoor Team Challenge/ Championship locations

Casamento Park, Bay Shore

Team Events:

Team Challenge:

Multiple team event

Minimum 3 teams.
Determines event 1st, 2nd 3rd, place outcome

Team Championship

Multiple Team championship event
Determines SCJTTL League 1st, 2nd 3rd place standings

Award presented.
Additional sponsor supported features
Tennis Team League planned for kids:
High School
Middle School
10 and Under Tennis
Features:
Local Tennis Team Tournaments and Competition
First ever Suffolk County Junior Tennis Team League (SCJTTL) Team Championship was held on April 22, 2022 at EAC -Blue Point.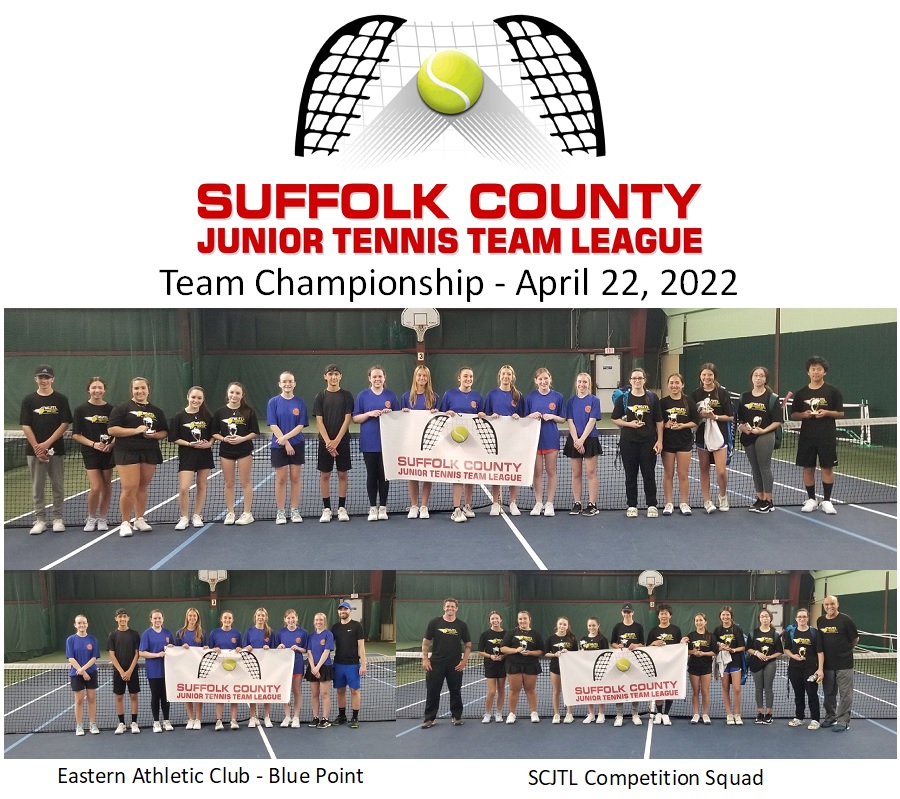 Four teams from Eastern Athletic Club- Blue Point and SCJTL Competition Squad competed for placement. Very competitive matches finished with close scores.
1st Place: Comp Squad - Joe Team: Ray, Leah, Hana, Katie, Ashley.
2nd Place: Comp Squad - Jimmy Team: Eric, Bella, Tori, Abby, Gabby.
(difference of 1 point!)
3rd Place Tie: EAC Teams Blue and Red. (difference of 4 to 5 points!)
Congratulations to players, coaches and families.
Formats:
High School
Tennis team tournaments
Open to organized teams
SCJTTL guidelines
Team sizes and make up.
Resources:
Code of Conduct: Players and Coaches
USTA Rules and Regulations - The Code
For information about forming a JTT team, hosting an SCJTTL event, contact SCJTTL:
Email: jarias@ariastennis.com
Phone: 631-360+-8047
Visit the SCJTL Comp Squad USTA Team on