Friday Night Junior Tennis Team League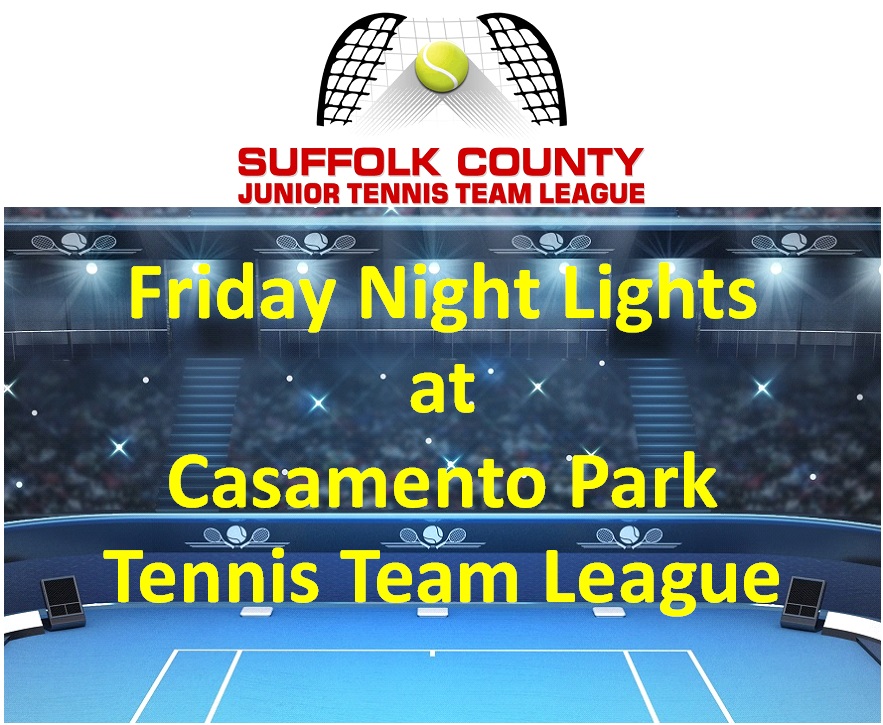 Weekly junior tennis team competition league..
Registration TO OPEN AFTER TRYOUT JUNE 20!
Players must attend the SCJTL Tryout on June 20, 2022 to qualify for this program:
Contact SCJTL with interest in joining the League.
Call: 631-590-5019
Email: scjtl@ariastennis.com

FAQs
Click for answers to commonly asked questions. If you do not see what you are looking for, send us a quick email: scjtl@ariastennis.com
HAVE QUESTIONS?
Please contact us at:
SCJTL Programs: 631-590-5019
Email:
STAFF BIOS
The SCJTTL Friday Night Lights (FNL) League is a weekly outdoor tennis team competition league experience.
The 2022 Friday Night Lights Season:
Day: Fridays
Time: 6:00 pm to 8:30 pm
Dates: July 15, 22, 29, Aug 5, 12, 19
Friday Night Lights League Features
Program
Teams are organized by even levels for competitive play.

Team play SCJTL Team Tennis Showdown timed short set singles and doubles match format.

SCJTL Flex-Reg: Player may register from minimum 4, up to 6 sessions.

Member players included in possible SCJTL Competition Squad Season 2 team competition. This is an additional feature currently under development.

Universal Tennis Ratings generated. Players must have a Universal Tennis profile.

SCJTTL program shirt included.
Please note: Minimum of 4 sessions to join the program. Players have to make or activate their UTR account and sign up on UTR to pay the 5$ each week attending.
Player Qualifications:
Players must attend the SCJTL Tryout on June 20, 2022 to qualify for this program:
Experienced players:

Boys and Girls - Ages 14 to 18

SCJTL Skill Level: 35+

Universal Tennis Rating: 3 to 5.

Must attend Tryout for NEW Players: June 20th 6-830.
Program Fees:
Team Fee: $40

Program:

$65 per session

SCJTL Multi program discount fee = $60

Minimum registration = 4 sessions

Universal Tennis fees:
Tryout: Required
Click here for SCJTL Tryout information and registration.
Visit the SCJTTL on

➤
Warning
: include(spring-tennis-league-registration.php) [
function.include
]: failed to open stream: No such file or directory in
C:\Inetpub\vhosts\ariastennis.com\scjtl\scjttl\jttl-friday-night-lights.php
on line
218
Warning
: include(spring-tennis-league-registration.php) [
function.include
]: failed to open stream: No such file or directory in
C:\Inetpub\vhosts\ariastennis.com\scjtl\scjttl\jttl-friday-night-lights.php
on line
218
Warning
: include() [
function.include
]: Failed opening 'spring-tennis-league-registration.php' for inclusion (include_path='.;./includes;./pear') in
C:\Inetpub\vhosts\ariastennis.com\scjtl\scjttl\jttl-friday-night-lights.php
on line
218