SCJTL Training -HOME
Train not just to be good. Train to be great!
The following information supports SCJTL Player Development.
(Click links to go to topic.)
Tennis Training
10-Minute Hittting Warm-up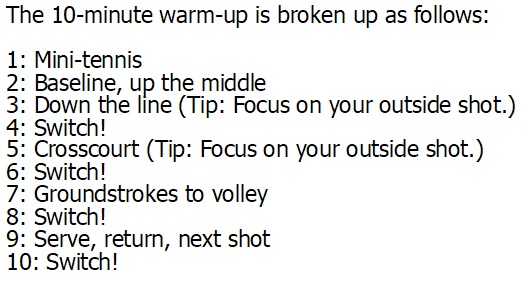 One-On-One Doubles

Stay at Home Tennis Training
By Top Tennis Training (Added March 28, 2020 )
5 Ways To Improve Your Tennis At Home
Great Footwork Workout
-------------------------------------------------
Dynamic Warm-up and Flexibility Training
Must read! Sports Fitness Advisor: Tennis Training
Tennis iCoach: The right shot selection.
Recovery In Tennis: USTA Recovery Project Player Development (Pdf)
Great Wall Training Routine!
EL AUTO-ENTRENAMIENTO DE LOS GOLPES DEL TENIS EN EL MURO O FRONTÓN ...... !!!!!

Posted by Cancha de Tenis on Thursday, February 4, 2016
Directionals
Full comprehensive video on the Directionals by Paul Wardlaw.
Sound may not work on Chrome.
Directionals Training
Chuck Kriese Power Training
Return Of Serve using Directionals
Stroke Analysis
Video 1 Points:
Racquet preparation.
Backswing
Contact point
Follow through

Video 2 Points: Roger Federer Backhand Volley

Video 3 Points: Roger Federer Volleys
Video 3 Points: Kim Clijsters Backhand
Click here for more training videos.