Children are not young adults.
They are different physically, physiologically, emotionally, and socially. Therefore, youth sports should fit the special needs of children.
With 10 and Under Tennis kids can start playing tennis at the age of 4-5. In order to achieve this, for only the fifth time in the history of tennis, the Rules of Tennis have changed.
The most important changes are the equipment. Smaller courts, smaller sized racquets starting from 17'' (compared to 27'' full size racquets) and low pressure balls (Red, Orange, Green) allow kids to start playing tennis at a much younger age. This lets them enjoy the sport and have fun without frustrations of having trouble handling full size racquets and high and heavy bounce of regular balls.
TAUT Attributes:
Smaller an scalable courts

Smaller and scalable sized racquets

Low pressure balls for each age and stage of development.
Before the introduction of 10 and Under Tennis, kids had to be 7-8 years old to be able start playing tennis. In this case, ''starting playing tennis'' refers to being able to hold the racquet and swing with success to connect with the ball once. This would allow the coach to teach proper technique and stroke mechanics. The first year or two of the beginning stage of learning was oriented on how to hit the ball before kids were able to play the game. Of course there were and still are kids with more than ordinary athletic abilities and sports specific talents who can do much more than hit the ball at that age, but still there are benefits for them in utilizing modified equipment even though they are able to handle the regular balls and full size courts.
Now with 10 and Under Tennis kids can start tennis at the age of 4-5 and progress through their development pathway until they're ready to move on to the full size court, racquet and regular balls.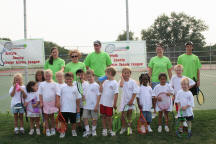 Benefits of Playing Tennis at an Early Age
Benefits of starting tennis at the age of 4-5 may not show right away in terms of hitting the ball and sustaining rallies, but activities and games oriented at that stage helps them develop their basic motor skills, ball tracking, sending and receiving skills, reaction, racquet skills, social skills and over time all this is engraved in their muscle memory as they become better athletes at the later stages. By the time they are 7-8 they already know how to hit the ball and they start to learn how to play the ball.
In the chart below, you can see the varying court sizes for TAUT.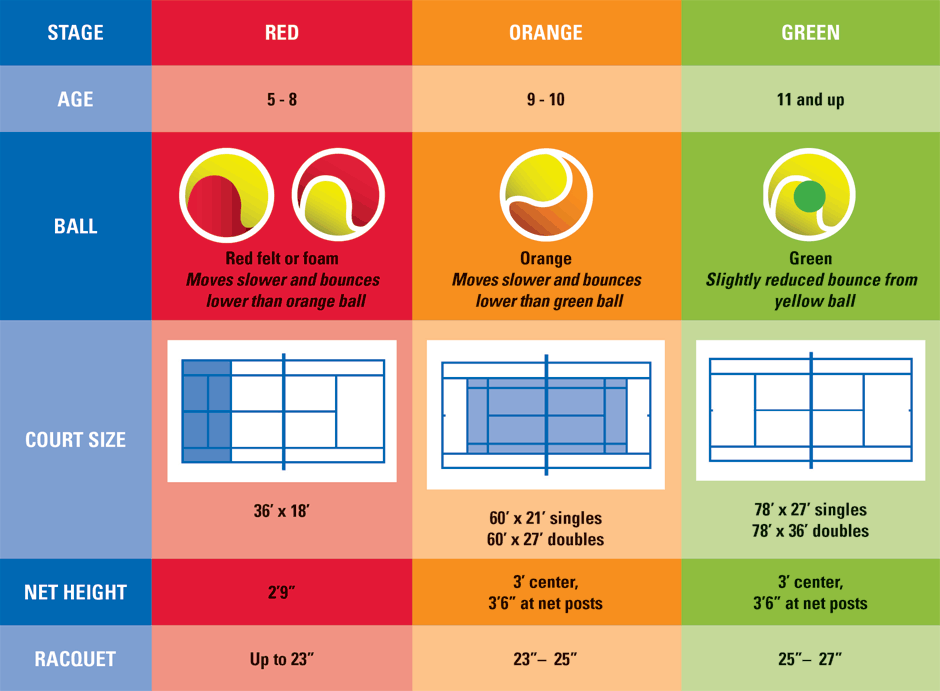 Since modified equipment and skills developed at earlier stages allows them to sustain longer rallies and play out the points, kids start to learn where to hit the ball, where to position themselves, how to score, and how to compete. They start to learn how to think on the court and problem solve, which in part will help them in later stages to be tactically smart and mentally strong players.
TAUT Benefits:
Develop basic motor skills

Ball tracking

Increase receiving skills

Increase reaction time

Racquet skills