The Summer Tennis League is a unique "Learn, Play, Competition" tennis experience for all ages and skill levels!
The oldest, largest, and most established community tennis program on Long Island, the USTA Eastern Section covering, New York and New Jersey, and still the only tennis program of it's kind!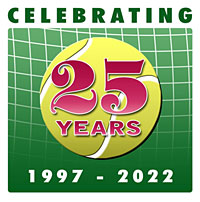 Since 1997 the SCJTL Summer Tennis League has provided an affordable, welcoming, and fun, recreational/competition tennis experience for Suffolk County kids and families.
The flexibility and inclusive design of this unique and highly attended program is at the core of all SCJTL programs, offering something for everyone no matter what degree of interest in tennis.
SCJTL was created to "provide an adventurous experience in the lifetime sport of Tennis". The Summer Tennis League is first and and still the best tennis program to accomplish our mission!
Summer Tennis League features include:
Low cost, flexible registration, local instruction, combined with "discovery learning thru play" format in a peer group environment.

Play up to 6 weeks during weekday afternoons.
ideal for kids attending camps during the day and want to play tennis in the afternoon a couple of days per week.

SCJTL Flex-Reg System offers flexible registration from the full 6 weeks to as little as 1 week. Click to learn more about Flex-Reg.

Session time lengths offer the right amount of time for instructions and play each age group.

Circular curriculum is designed based on the SCJTL Flex-Reg System so players registered for full or partial are included in all activities. Everyone is included in every activity regardless of registration length!

Players play with other players, no line feeding, developing send/receive skills highly necessary, rarely taught, for better tennis player development an early stage while providing the fun experience of playing tennis with their peers.

Age and skill level specific Game Based drills offer tactical introduction a fun environment relative each players level of commitment.

STL Players experience, singles, doubles, group games including learning the rules of tennis. Site Ladder and Team Matches prepare players for Challenge Week Team Tournament. Ideal Preparation for play on school tennis teams and USTA tournaments.

Players can play and learn with their friends while making new ones!
Players are encouraged and shown how to play tennis with friends and family outside the program.

Site staffing and curriculum designed to create highly supervised and secure, student centered environments for kids to learn and interact with their peers.

Each Site is thoughtfully staffed with SCJTL Staff Team of responsible and dedicated Coaches, who are closely connected to the Summer Tennis League.

High school age, tennis experienced, Site Coaches are carefully selected and trained by USTA National Coach Education and Development Faculty Member, and are required to play in the program.

Each STL Site is managed by carefully and thoughtfully selected adult Site Directors experienced with SCJTL for many years with most having played in the Summer Tennis League in the past.

Summer Tennis League Site Directors and Managers are USTA Net Generation Coach and Safe -Play Certified. Click here to learn more about Staff.
Combined with SCJTL Player development programs, the Summer Tennis League has generated more school tennis team and tournament players than any tennis program or tennis club in Suffolk County since 1997!
---
Summer Tennis League Recreational / Competition Activities Include:
Instruction: Racquet/ Rally Skills, Agility-Balance-Coordination, General Technique,
Games: Tactical, Doubles, Singles.

Red, Orange, Green, and Yellow Division Competition: Ladder Matches, Site Team Matches, Skills Standings
Summer Tennis League Registration Includes:
Team Shirt: 1 per registered player.

1 SCJTL program commemorative medal included with registration.

Challenge Day Team Medals: Challenge Week placement medals for Red, Orange, Green, and Yellow Division team members whose registration includes Challenge Week. Click here to learn more about Challenge Day.
Players will need to provide:
Players will need to provide the following personal equipment:

To avoid accidental sharing, Players are required to have their full name clearly written on every item brought.
Age specific tennis racquet.

Red (6-8yo): 21" to 23"
Orange: (9-10yo): 25"
Green, Yellow: 27" (full size)

Clothing

Shirts, shorts, sneakers (no sandals or flip flops)

Personal

Water, sunscreen and anything personally required.
Summer Tennis League Site Locations:
*As of 6/17/22
Click here for maps and directions to all Summer Tennis League Sites.
*Sites may be changed or modified determined by registration.
** Challenge Day Site -Hauppauge Middle School Tennis Courts**
Click to learn more about Locations.
---
More about the Summer Tennis League:
4 AGE AND SKILL LEVEL DIVISIONS
Summer Tennis League sessions are categorized according to age, grade,skill level and experience.
SCJTL teams are organized to match players of similar age and ability. Rules are made flexible to accommodate age and level abilities. Team scoring systems are designed to count everyone's effort.
New: SCJTL 10UT Division is now split into 2 Divisions, 1-1/2 hr. sessions:
Red Division: 6 to 8 year olds - Red Ball, 36 ft courts

Orange Division: 9 to 10 year olds - Orange Ball, 60 ft. Courts
SCJTL STAFF TEAM
Summer Tennis League Sites and activities are supervised by a trained and highly motivated staff of Site Directors, Site Managers and Junior and Senior Coaches.
Junior Coaches are High School tennis players who play in the Summer Tennis League Yellow Division, are carefully selected and trained to share their respect for the Summer Tennis League as well as their enjoyment and enthusiasm for tennis.
Site Directors are USTA Net Generation Certified Coaches and Safe Play Certified.
Site management structure is designed and implemented to provide maximum attention STL players.
FLEXIBLE REGISTRATION
Can't play all 6 weeks?
The Summer Tennis League Flex-Reg System is a a flexible registration system from five (5) weeks to as little as one (1) week.
Can't make both days?
Schedule the days you can make.
Scaled registration fee is determined by how many weeks attending.
Every 2 days = 1 week. No 1/2-weeks.
Instructions available on all Mail-in or Online registration forms
PLAY AT ONE LOCATION
Players play at their registered location during the program except on CHALLENGE DAY.
All sites, except the Challenge Day site are closed.

SCJTL Challenge Day!
Summer Tennis League players experience Team Tournament competition for medals and Challenge Site Cup points against all other Summer Tennis sites.
Challenge Day competition is on the last day of the program for each Division.
Location Hauppauge Middle School Tennis Courts..
Challenge Day must be selected to be included in player's registration.

SUPPLEMENTAL SCJTL PROGRAMS
ALL SCJTL PROGRAMS