Weekly comprehensive competition training with Suffolk County top varsity tennis and USTA National High Performance Coaches. Weekly themed training sessions covering all aspects of varsity and tournament competition.
There is no program that covers important competition skills and tactics like this one. The goal of the this program is is to elevate the competition skill levels of players by focusing on singles and doubles tactics not covered by any other junior development programs.
Each weekly sessions starts with a 30 minute pre-on-court theory session covering that day's training theme.
On court session where players work applying skills thru skill based and play based drills coached by Directors combined with singles and doubles match play.
About the program:
6 weekly sessions
Sundays
5:30 pm to 8 pm ( 2.5 hrs)
Dates: November 5, 12, 19, December 3, 10, 17
Location: Deer Park Tennis Club
30 Burt Drive
Deer Park, NY 11729
Please note: This is NOT a Deer Park Tennis Club program.

Directed by and on court with Varsity|Tournament Competition Training Coaches:
Joe Arias - Jimmy Delevante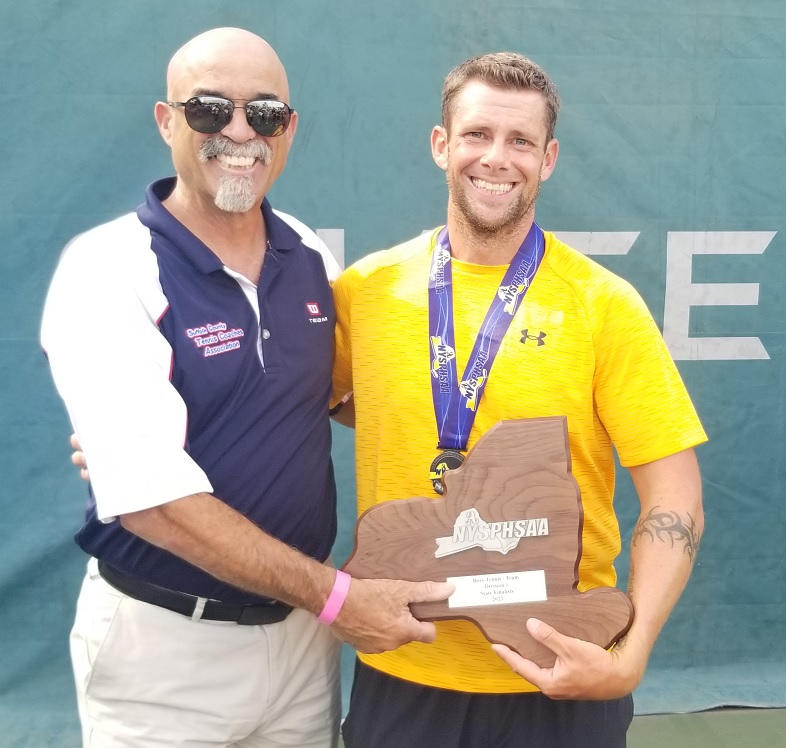 Player Qualification:
Experience Level: Strictly followed.
Ages: 14 thru 18 - Grades 9 thru 12
Varsity experienced only. Not open to JV players.
UTR 3.0+
SCJTL Skill Level rating: 35+
Player must be able to effectively participate in "live-ball" drills and play.
Court limitations require players to have the experience and ability to perform all court activities, competition levels, and able to remain engaged in a 2 1/2-hour session of live ball drills, singles and doubles competition.
Some exceptions made based on player skill/experience/commitment level.
Limited registration. Registration closes as soon as maximum reached.
Questions about qualifications:
Not sure of level:
Contact SCJTL
Call SCJTL: 631-590-5019
Please note: Refund of payment made for player(s) who do not meet program requirements are subject to SCJTL credit card refund fees.
Requirements:

Players will need to provide the following personal equipment:

Age specific tennis racquet.
REGISTRATION FEE DETAILS
6 weeks ( 2.5 hrs/wk)
$510 per player ( Full program - No Partial registrations.
All fees must be pre-paid as required . Payments made payable to SCJTL .
Online registration and payment is available.
LADDER STANDINGS
Click here to see SCJTL Ladder Standings for all programs.
VARSITY|TOURNAMENT COMPETITION TRAINING RESOURCES
SCJTL Performance|Competition Training Site
HOW TO REGISTER
Log-in to your SCJTL Member site.
Under your player: Click ENROLL
Click: Varsity|Tournament Competition Training
Not sure or have a question about eligibility? Email and ask SCJTL
SUPPLEMENTAL SCJTL PROGRAMS FOR THIS PLAYER
ALL SCJTL PROGRAMS