Ages 6 to 8, New to advanced beginners, 1 1/2-hour sessions, Mondays and Wednesdays, up to 6 weeks.
About the Red Division:
Red Ball / 36 foot Court Format
Kids ages 6 thru 8 years old learn tennis using the USTA 10UT Format using tennis to scale courts, balls, games and scoring.
Players learn racquet and rally skills using interactive progressions to develop essential ABC's (agility, balance, coordination) skills.

Players learn basic tennis tactics by playing games including singles and doubles, learn rules and age specific scoring.

Activities are age and skill level specific. .

SCJTL site ladder match play standings posted weekly.

Site Coaches are trained to coach and guide players through their experience.

Players registered for the Red Division Challenge represent their site as important members of the team. Click here to learn more about Red Challenge Day.
Red Division Teams
Red Team 36: New players 6-8 yo. - Red Ball / 36 ft. court

Red Team 36 Adv.: Advance beginners - 6-8yo - Red Ball / 36ft court.
Please note:
Players are grouped according to experience and skill level evaluated by Site Director.
Varying court sizes and balls may be used according to session teaching theme and objectives.
Friends can play in the same groups together, regardless of experience, managed by the Site Director!
---
Registration Includes:
Team Shirt: 1 per registered player.

1 SCJTL program commemorative medal included with registration.

Program tennis balls provided..

Challenge Day Team Tournament Medals for players whose registration includes Challenge Week.
Players will need to provide:
Players will need to provide the following personal equipment:

To avoid accidental sharing, Players are required to have their full name clearly written on every item brought.
Age specific tennis racquet.
Clothing

Shirts, shorts, sneakers (no sandals or flip flops)

Personal

Water, sunscreen and anything personally required.
Players may bring their own sanitizer.
Supply will be readily available and used directly on hand and on gloves, during check-in, check-out, and throughout the session.

Bag, drawstring or regular backpack, with full name clearly written for easy identification.
As a service, supplies may be available in limited quantities for purchase at a modest price, online and at the site. Payments may be made online during registration or at site for exact amount (no change will be available or transacted).

Parent / assigned guardian for younger players may be requested expected to stay for full 1 1/2-hour session.
Most parents can leave their players and pick up, on time, before the end of the session.
Bathroom access not available at all sites.
Summer Tennis League Site Locations:
Summer Tennis League Site Locations:

*As of 6/16/21

Click here for maps and directions to all Summer Tennis League Sites.

*Sites may be changed or modified determined by registration.

** Challenge Day Site -Hauppauge Middle School Tennis Courts**
Click to learn more about Locations.
SCJTL Red Division Challenge Day!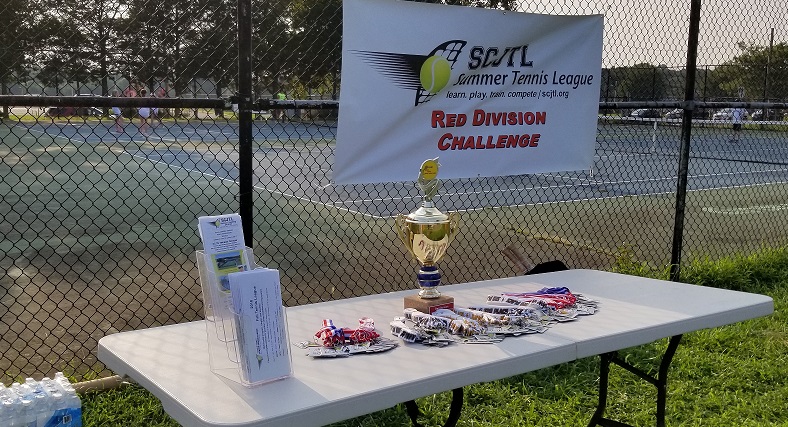 Program culminating event for players whose registration includes Challenge Day.
Challenge Day takes place Hauppauge Middle School Tennis Courts for 2021 tennis courts.
All other sites are closed that day.
Challenge Day is a Team Tournament event for Summer Tennis League, Red Division players. Registered and attending players will receive an SCJTL Challenge Day Division wrist band.
Everyone plays! Players will experience team competition for Challenge medals and Challenge Site Cup points against all other SCJTL Summer Tennis League sites.
Challenge Competition medals for 1st, 2nd, and 3rd place.
Players will also get to meet "Deuce", the mascot for the Suffolk County Tennis and Education Foundation
SUPPLEMENTAL SCJTL PROGRAMS FOR THIS PLAYER